Cross Florida 2015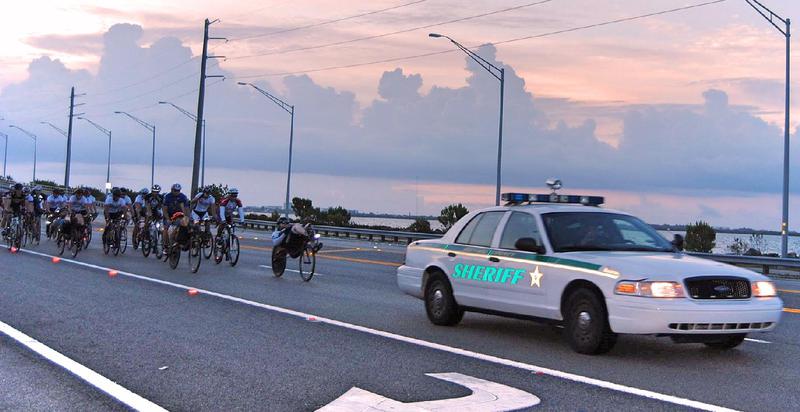 Jim, me and Doug trailing the lead vehicle
RailGun riders have been having a lot of fun the last few years at the Cross Florida ride. This year's 2015 ride was no exception. Jim D., Doug P. and I rolled out front just behind the official pace car for the first 12 miles in the 20 mph controlled-speed section of the ride. Once we cleared the I95 bridge, we rolled off, with one df rider sitting on Doug's wheel for a few minutes before he dropped off. Unfortunately, on one of the little bridges towards the end of Nova Rd, Doug fell off of the back and decided to take a slightly calmer pace by himself for the rest of the race. Jim and I rolled for the next 65 miles at a 25.2 mph elapsed time average (including the first pit stop and numerous traffic and neighborhood stops) for a 4:05 elapsed time century (we were typically rolling at 26-28 mph). This also included a stop on Lakeshore Blvd in St Cloud for a mama duck trailing her ducklings crossing the road in front of us. I decided to roll around behind the last duckling which apparently brought to mind all those stories his mama had told him about looking both ways before crossing the road so he turns and bolts back across the road right in front of me. The video I was running shows he rethought that action and quickly scooted back towards his siblings and safety. I thought I had missed him by a couple of inches, last I could see of him.
As we were turning onto the brick section of Old Tampa Hwy, Jim was stowing a water bottle and didn't notice me calling out the left turn which gave him a little scare. He then had a few comments regarding the road surface quality and I told him this was the better section of the road and to watch for the potholes up the road a bit. I was pleasantly surprised to find most of the potholes had been somewhat filled since last year so it wasn't quite as much of a problem. At mile 68, we were glad to see our fabulous support crew enthusiastically waiting for us. We arrived about 15 minutes earlier than I had estimated so I was glad they were ready and waiting. At around mile 82 the wind shifted to out of the south which dropped our cruise speed from about 26.5 mph to about 25.5 mph. We caught up with Kim Rowe on his CA2 and he jumped on Jim's wheel for a while. Great to see him out there, especially since I later heard he had ridden something like 60 miles to ride there with us.
Around mile 110, about the time we turned off of Hwy 98, Jim started saying he was overheating. He pulled off his arm coolers (a pretty good trick while riding at 25 mph) but was still having difficulties. I pulled us for a while before he asked me to drop power for a bit but he wasn't getting better. After thinking it over for a while I decided it might be best to roll off to the 130 mile pit stop and have the crew run back and take care of him, also hoping that seeing me roll off might help focus his attention of getting back on my wheel, and it worked! The crew was just getting ready to run back to check on him when he rolled in at the stop. The crew gave him some ice water for his bottles and his chest and he soon took off after me, achieving a faster average on the remaining ride than I! Just about the time I made the 130 mile stop I started having fueling problems myself and had to drop power, especially on the hills. That's part of my ongoing struggle to find a fuel that provides enough calories yet doesn't tear my stomach up or put me to sleep. This latest round of ingredients just couldn't get the fuel through my stomach fast enough for this pace.
Last fall, Jim had talked me into picking up a Bontrager Aura 5 wheelset for my daily wheels. Wide allow rim with a carbon fairing. These turned out to be great wheels with the front being the most stable faired wheel I have ridden. When paired with my Zipp 808 with a wheel cover, they provided the most stable combo on the 42+ mph cross-wind descents on the following sections. Also, through the years I have been making steady progress towards solving the hotfoot problems I have long encountered on distance rides under power. In the past I generally never could get past holding about 200 watts for more than 4-5 hours before hotfoot set in. It appears I am very close to solving the problem finally. I only had a slight tinge of hotfoot when I powered up the hills and wasn't paying close attention to pedal technique this time. So extensive shoe modification to move the cleats far rearward and towards the outside of the shoe, tilting the cleats slightly so the foot leans outward, fabricating custom shoe inserts of my own design and especially developing a racing seat that places my body in the correct position to more easily enable correct pedaling technique that lets me get on top of the pedals with force instead of pushing through them.
After barely making it through a couple of traffic lights I caught the last five lights just as I approached the intersection. Same story as the last two years! I can't quite get those lights timed correctly! That horribly long signal at the left turn onto Cortez Hwy caught me and as a group of 2-day riders pulled up beside me, one of them said "Hey! You passed me right here last year!" and I remember talking with him then also. Another rider forlornly said "It was my goal this year to beat all of the one-day riders". I suggested that he still had seven more miles left to hold to that but he wouldn't run with it.
I rolled past the 167 mile finish at 2:25 PM for a 7:25 elapsed time. Jim was close behind me. When we compared rolling times, his was slightly shorter but we agreed that it's not always a great idea to jump in the swimming pool during a race. Doug had a little rougher time of it this year but rolled in not too long after us also. Go RailGun Riders!
Doug's Report
I continue to learn. My thoughts coming into the weekend were that I wanted to beat my last years time to have a definitive mark of improvement. I wanted to stay hydrated and fueled to maintain my strength. I did feel strong in the beginning; turning in my personal best century time to date 4:27, but I did not have enough left in the tank to get me through the hills to the finish in a time that I would have preferred. I should have known not to take out at such a fast pace for the first 35 miles but just hanging on for the time I did gave me a sense of accomplishment. I've just recently switched brands of fuel mixes and although I did not have any gastric challenges it could have been a factor in running out of juice in the last third or so of the ride; I'm sure the hills, heat, and wind direction change played a part as will. I cannot say enough about the new M5. Its a great bike that I am continuing to dial in. It is very smooth and the Railgun seat makes producing power for hours on end something that approaches comfortable. All in all I had a great time and would do it again tomorrow; most of the cars coming by gave plenty of space and there were a bunch of friendly riders. Thank you to Kent and Jim for letting me hang on for a while and a very special thanks to our crew team of Judy, Cat, and Jared, for without them it would have been difficult to participate in this event. Thank you for putting up with our crazy hobby.
Jim's Report
It has been a rough year for me when it comes to riding. I was hit by an SUV at Sebring just over a year ago and tore my Vastus Medialus in December. Basically, I haven't done anything longer than 120 easy miles in a long time. I have trained hard the past few months and put in an extra amount of effort knowing I would have to come out of so called retirement to let it rip once more. Cross Florida would be the place to do it. It is a hot, humid, windy, hilly (yes hilly) hell of a ride (Race...more than 2 people).
For the ride, it would be Doug, Kent, and I at the front at the start. We had a plan set and for the first miles we settled into a sleeping pace behind a very nice police officer keeping us safe from elderly SUV drivers entering the roads. Once up to the overpass, we stretched it out keeping the pace reasonable knowing it would be beneficial to have everyone hang on for as long as possible to help draft. Doug was doing fantastic taking pulls and all seemed well. At about 35 miles, Doug pulled back and decided the pace would get him. I am really proud of him! He is a heck of a nice guy and put in a great effort to finish strong this year!!
At mile 67ish, My crew chief son had two fresh bottles and a smile ready for me and off we were again. The winds shifted pretty harsh from the south. This slowed us a bit and taxed me a bit much. I couldn't keep anything down. I pulled my arm warmers off at speed and kept vomiting up causing the bike to twitch involuntarily. Kent motioned for me to concentrate and grab on, but I felt more comfortable back a bit away from him hoping I would get over it. We were working so well as a team that it was disheartening to watch him leave...
I powered down and focused on making it the next 25-30 to the next stop. I came to a stop with crew running over with bottles and help. I just motioned to stop and went to the field to vomit. Judy let me sit inside her van and drink some Coke and let me put ice on my neck. I just had to go, though. 5 minutes was enough. They made me some ice water, one bottle of fuel, and I stole the ice bag and placed it on my chest. This would become a 40 mile race with my mind with nothing to lose. I was NOT going to quit!!!
I charged and fought and started to feel spry again. The water was nice, but the fuel was still making me gag. The rest went like this. I would start up a hill and yell at my legs and then repeat. Pretty easy. One by one, they were gone and I would start passing a bunch of riders from the two day event. One of them yelled up to his buddy and said, ┐Here comes another one┐! Followed by, ┐Cool┐!! This was certainly better than the lights I kept having to stop at.....ugh.
I finished with a 7:15 ride time. This was slightly faster than Kent's, but I had to stop and put my feet in the pool. Overall, the race is punishing. I learned a ton and feel like I'm getting my legs back. To think that I have more time and no injuries right now is refreshing!! Onward!!
Thanks to Kent and Judy and to Doug and Cat for the welcoming of my son and I!!! He loved it and appreciated being able to help his dad. This was extra special to me!!!
---

May 3, 2015