RailGun
Spy Buttons
---
Spy Buttons are custom mirror mounts designed to attach Zefal Spy Mirrors to SRAM Aero Shifters.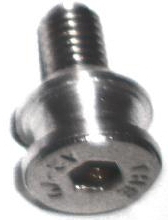 These mirror mounts are designed to replace the SRAM Shift lever attachment bolt. If used on the shift tension bolt, extra care needs to be made to secure it adequately so it is not recommended. Remove the bolt, insert the Spy Button in its place, run the included (longer) bolt in place of the original and tighten. Disassemble the Spy mirror, wrap the two clamshell clamps around the Spy Button, place the mirror around the clamp, insert the Zefal bolt and nut back in place and secure.
Note that these only work with certain shift lever orientations (such as on gunner bars with the lever pointed upwards and rotating forwards). Hold a Spy mirror in the correct location and make sure it doesn't interfere with shifting.
---
Home | RailGun Performance Seat | SpeedRails | Barends | Spy Buttons | Headrests | Contact |
Dec 22, 2016