RailGun Performance Seat
RailGun Photos, Cross Florida 2014. Cross Florida 2015.
And our new M5 CHR rib mold.
Also our new Gunner Sheaths and seat covers
Note: We have discontinued the RailGun V1 seat/tailbox
(We begin the RailGun V2 construction)
How about a new type of carbon-fiber seat and tailbox designed for high-performance riders from the pioneers of low seat-angles on short wheelbase recumbents? A seat designed to offer an ergonomic fit at speed while under power for high-intensity or distance events.
The new seat is a low-seatback angle seat, generally for use between zero and fifteen degrees. When set up properly, this seat should do away with the need for "bridging" when at high power as it more properly positions and supports your body. It has less seatpan flair to prevent hamstring damage at low seat angles and supports the main contact area on the lower back and pelvis yet allows room to clear the sacrum and tailbone. It doesn't flex in the middle of the seat, as all other seats do, for much quicker acceleration, faster/easier climbing and better power transfer and is far more aerodynamic.
The seat has integrated headrest tubes for a built-in headrest that weighs less than 6 ounces. It doesn't need a clamp but just slides in and out easily yet stays at your correct height. It is very flexible and can comfortably handle rough roads and most bumps without having to lift your head from the headrest.
The tailbox has two integrated bottle holders that are located directly behind the seat and a hinged lid that opens backwards for holding essentials. The tailbox provides little to no aerodynamic advantage, depending on circumstances. The aerodynamic improvement comes from the seat itself.
---
Check the RailGun FAQ and Howto
for more information about our seats; how to pedal, climb and breathe; seat angles, tailboxes. etc.
---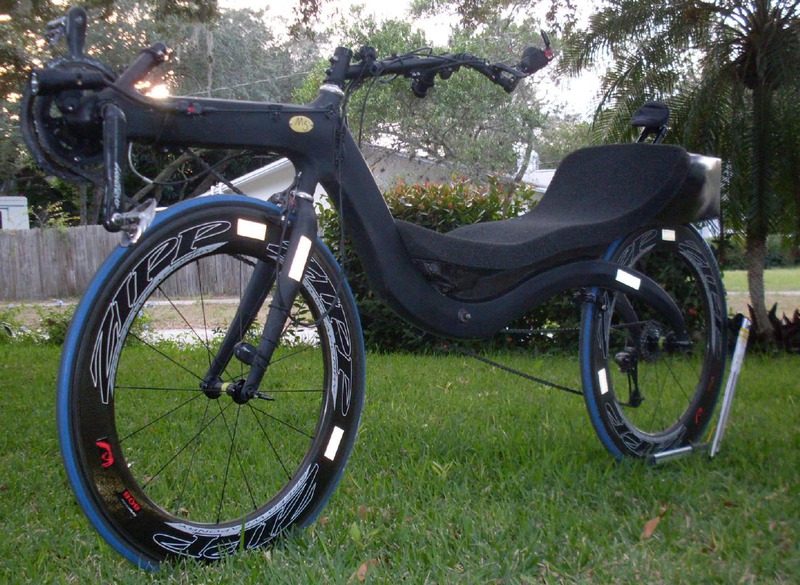 This RailGun seat follows the contour of the M5 frame and is extremely stiff for fabulous power transfer yet a comfortable ride when under power. Accelerating, climbing and just running under power on this ride is so remarkable and fun it likely has to be experienced to be believed.
The total weight of this seat for the M5, including custom rib inserts, tailbox, all mounting hardware and headrest (minus the seatpad) is 2.8 lbs. Standard RailGun stickbike seat combos typically weigh less.
---
The RailGun seat is available both with and without the tailbox.

By design, the tire interferes with the floor of the tailbox for this bike by about 3/4 inch with the five degree seat angle so we made a shaped tunnel insert to fit in the bottom of the tailbox to clear the wheel. The bottle holders are bonded to the tailbox.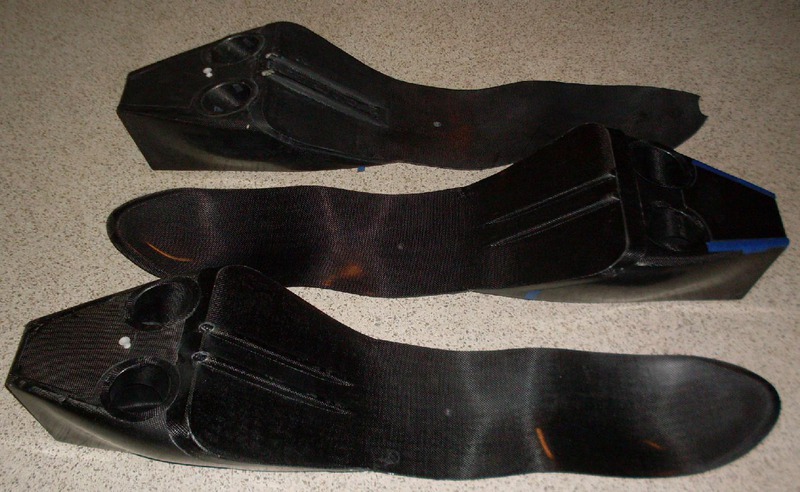 Three M5 RailGuns almost ready for speed training!
---
Please Note:
While our non-competetive riders tell us that their RailGun seat has brought new comfort and life to their riding, we would like to remind people that this seat is not really designed for comfort at low power levels, such as just cruising around. It is a performance seat, designed to provide proper support while under power and might possibly become a bit tedious otherwise. The lumbar support is designed to assist and support the lower back when it is under tension, whether for short sprints or 24 hr ultras. If you ride with your lower back relaxed and not under tension, this seat may not be the best choice for you.
---
Home | RailGun Performance Seat | RailGun FAQ | RailGun Howto | RailGun Photos | RailGun M5 rib mold | Contact |
Mar 20, 2018